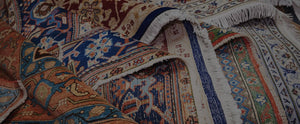 Pittsburgh's Oriental Rug Experts
Northside Carpet & Oriental Rugs provides expert cleaning and repair of antique and new rugs, carpets, carpeting, upholstery, and draperies.
Before we start, we take the time to work with each customer. We'll evaluate the age, origin, and current condition of your carpet. Then we'll explain our cleaning process and repair or restoration recommendations, and provide the cost for our recommended services, so that we can, as closely as possible, return your carpet to its original condition.
We will make every effort to accommodate your needs, provide a customized solution for your project and always respect the monetary and sentimental value of your items. We truly understand and appreciate the value, both appraised and sentimental, for your carpet, and heirloom rugs.
What our customers say:
Had two large, valuable carpets cleaned, including some reweaving. Came back clean and bright, which is what you'd expect. We opted for "lift and lay" service to avoid having to move furniture and roll the carpets (and repeat upon delivery) and JOHN could not have been more professional,. courteous and customer-oriented. So many delivery services complain and look for ways to do less - these very knowledgeable guys didn't stop until everything was perfect, and were friendly and personable the entire time. Huge asset to Northside Carpet.

Ed Donovan
Not only am I pleased with the carpet cleaning, but they have the most wonderful drivers. Today I had the pleasure of meeting John and Alex, I can not say enough about them! They were so friendly and even came prepared with dog treats! They went above and beyond.

Mary Jean G.
Ken and his team at Northside Carpet are simply outstanding! They took some damaged rugs and restored them to their natural beauty for our family.

Trust is everything with the handling of these rugs, and they proved to be very trustworthy and professional each step of the way. If I need my special rugs cleaned, protected, or repaired, there is no one else I go to!

John Fanning
read some of our reviews:




Northside Cleaning & Repair
1001 Constance St, Pittsburgh, PA 15212
(412) 231-3740 | (412) 322-1178 (fax)
Mon-Fri: 7:30am-3:30pm | Sat: 9:00am-2:00pm
Mt. Lebanon Showroom
320 Castle Shannon Blvd., Pittsburgh, PA 15234
(412) 344-3740
Tues-Sat: 10am-5pm